PATENTED HIGH TECHNOLOGY
Isifloating is the highest quality, most durable and cost-efficient floating solar system in the world.
Its unique and patented technology allows partial or complete coverage of the water surface (bottom and slopes). It can be used in irrigation or industrial ponds, reservoirs as well as in hydroelectric or water treatment plants, mining lakes, etc.
As well as helping to reduce climate change, Isifloating has been designed to make it easier for the company to install and maintain safely for staff and to reduce logistical costs while providing maximum energy efficiency.
We strive for excellence and simplicity in our product in order to make it easy for our customers to use Isifloating.
In addition, we have achieved a TCO (Total Cost of Ownership) and LCOE (Levelized Cost of Energy) very similar to other ground-mounted solar systems while maintaining the high performance and efficiency of our product.
HIGH QUALITY
Unique patented double float design for each solar plate, using the best materials (virgin blue HDPE, UV and anti-corrosion additives).
Injection moulding provides greater precision and durability.
Minimum thickness of 3mm in any part of the float and even more in parts exposed to the sun.
High production speed (1 MW of floats are produced in only 5 days).
SAFE
For O&M people with easy and safe walking access to any part of the installation.
For your investment thanks to our experience of more than 10 years in floating solar systems and the use of high quality materials and technical specifications.
Increased stability and buoyancy (240 kg / solar panel).
Minimal wind resistance thanks to the aerodynamic design of 5° inclination.
ADAPTABLE
To different water levels, even resting on embankments.
To reservoirs with small surfaces thanks to a high power per area (138 Wp / m2 with 350 Wp panels).
To the growth of your business by being able to start with an initial installation and expand it later.
To the environment by withstanding high waves, strong winds, as well as extreme temperatures.
COST EFFICIENT
In logistics and storage thanks to its nestable and stackable design (1MW only needs 7 x 40′ containers).
In installation due to few parts assembled on the ground with basic tools.
High installation speed (1MW in only 17 days with 4 people = 1.5 kW / worker / hour).
In maintenance due to the compact design and the use of conventional personnel and tools.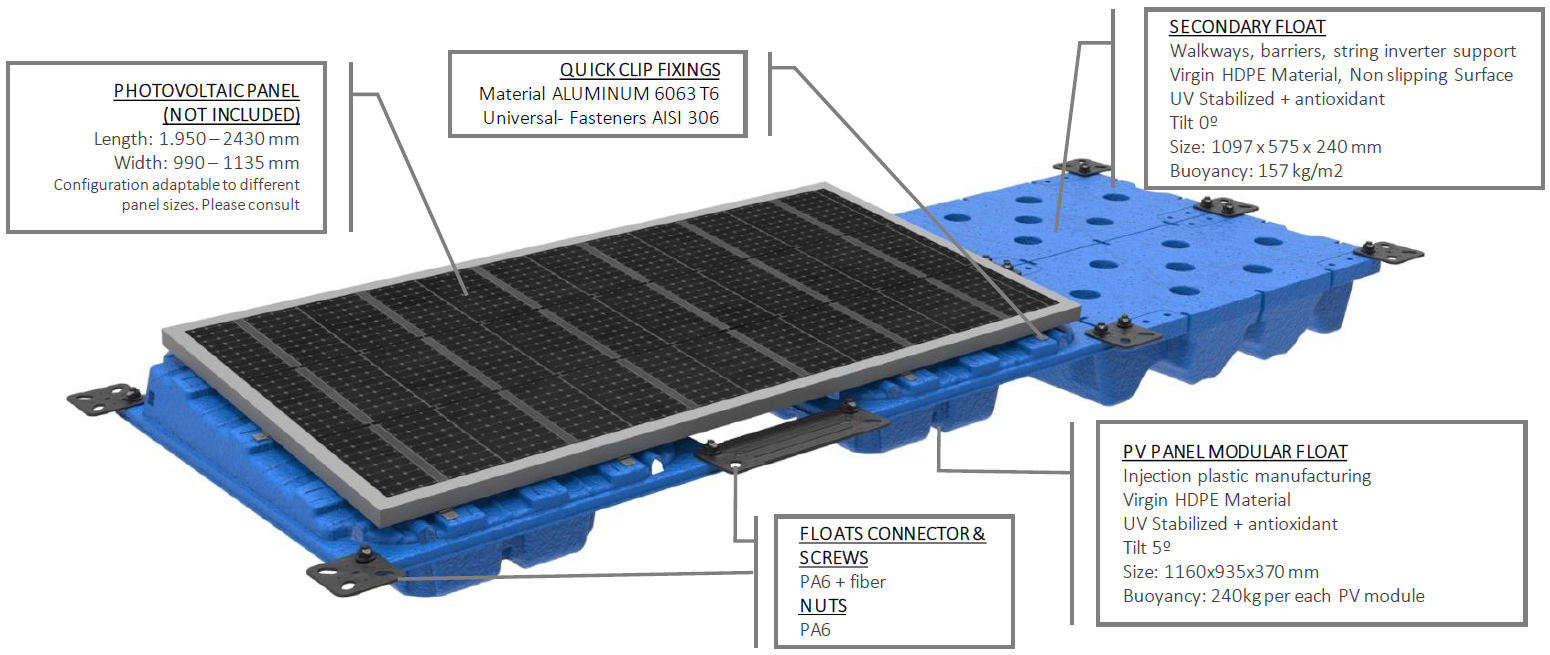 We work hand in hand with our customers and partners to ensure excellence in solar plant installation and operation.
TECHNICAL DESIGN
Optimisation of the floating solar structure together with the anchoring to ensure an efficient implementation taking into account:
Water reservoir factors.
Photovoltaic power plant factors.
Anchoring and mooring design as well as technical engineering support.
PRODUCT SUPPLY
Floats for photovoltaic modules.
Floats + plastic covers for walkways.
Connections between floats (plastic plates + PA screws).
Fixing device for photovoltaic panel (clip + screws).
Anchoring and mooring system.
SUPPORT AND TRAINING
Theoretical training course.
On-site training course.
On-site technical assistance and quality control of the installation.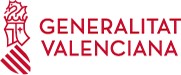 The project CHANGE OF MANUFACTURING SYSTEM: PLASTIC FOR THE MANUFACTURE OF FLOATING SOLAR SYSTEMS has been co-financed by the "Conselleria de Economía Sostenible, Sectores Productivos, Comercio y Trabajo" of the Generalitat Valenciana. The amount granted is 35% of the bankable budget, which amounts to 275,471.11 euros according to the approved modification.